Helping travel professionals gain insights using SiteMinder – World Hotel Index.
SiteMinder has released its proprietary data on the momentum of hotel bookings around the world. Data is sourced from bookings of SiteMinder's 35,000 customers and over 400 booking channels globally. SiteMinder World Hotel Index provides an unprecedented insight into the recovery trend of guests who likely to return to hotels post COVID-19.
The SiteMinder World Hotel Index is refreshed daily and free to access. It shows the comparison of current hotel booking volumes to the previous year in all major travel destinations. Data is available at a global, country and city level to provide both macro and local trends.
For hoteliers affected by COVID-19, you can use this data to:
Act quickly to the first signs of recovery in your country or city
Gain more confidence about when you can anticipate demand
Be ahead of your competition and put the right plans in place, at the right time, to attract those first guests.
Booking Momentum Snapshot
Using the World Hotel Index, you would be able to view a snapshot and gain insights into the booking momentum by countries.
30 Apr 2020 (Indonesia, Malaysia, Singapore, Thailand & Vietnam)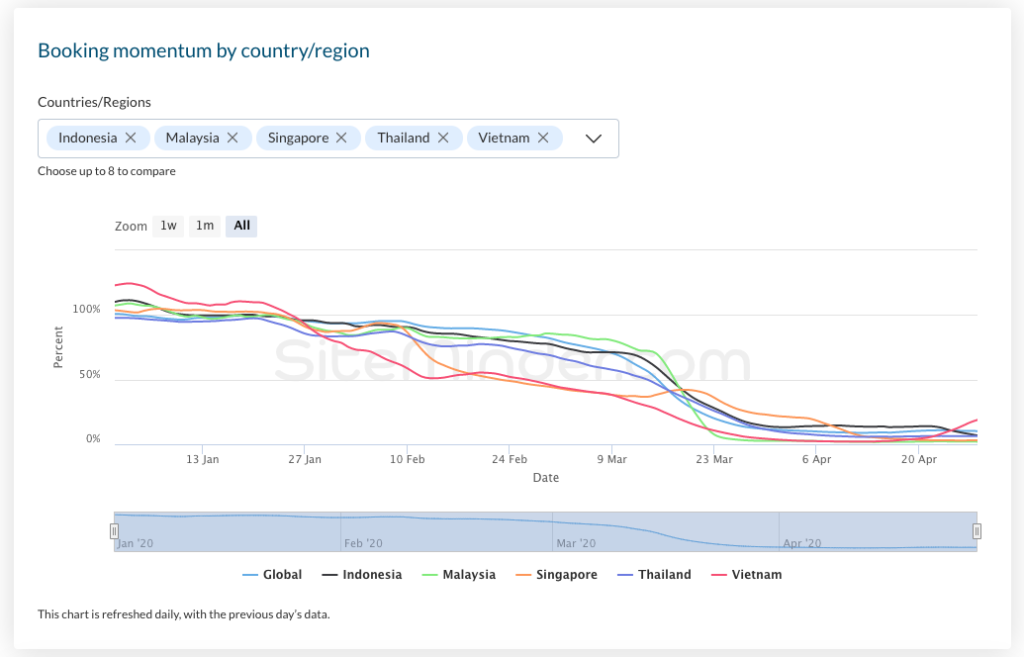 Hoteliers should have a recovery plan moving forward. Here are 3 Practical Ways to Help Your Hotel Recover From COVID-19.
Book a free consultation with our hotel experts on how to use this data to optimise your post-COVID19 revenue strategy for your hotel.
Orignial Article: SiteMinder releases World Hotel Index for hoteliers to foresee the return of guests