The China Tourism Academy's "Chinese Post-Virus Sentiment Report: 15 Observations and Discoveries About Travel" addresses Chinese tourism after the COVID-19 crisis, including consumers' worries and plans, and when and where they want to travel.
1. Travel was one of the leading topics that people cared about during the virus, and demand is still high – 40% of survey respondents said they were still reading information about travel and travel discounts often during the crisis period; 40% read it sometimes; 10% actually paid for a travel deal during the crisis period; and only 10% didn't follow any information about travel.
2. Travel should rebound again starting from the May 1 Labor Day holiday. 43% of survey respondents said they would travel between March and June, if the virus crisis is resolved.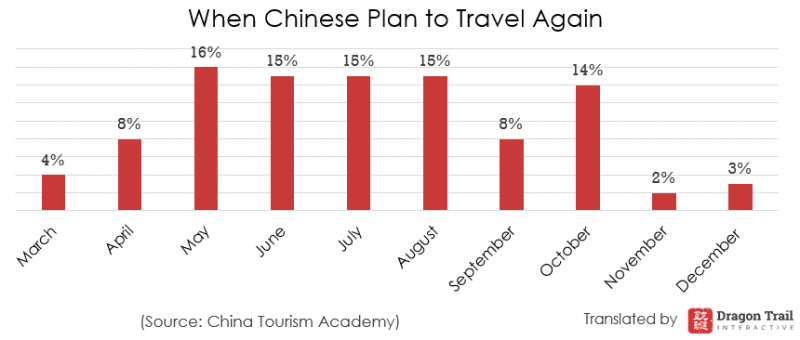 3. When asked about their goals for post-virus travel, 30% chose relaxing vacation, 24% chose sightseeing and tours, and 9% chose culture and education.
4. Most respondents said that their first form of travel after the virus would be domestic, with most sticking close to home.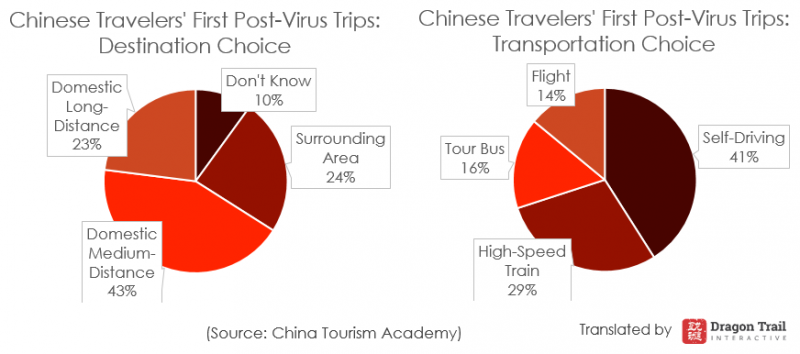 5. In terms of transportation for the first trips, self-driving is most popular, with flights chosen by only 14%. This is certainly related to the fact that most respondents would choose to travel in the area, to destinations they do not need to fly to.
6. Relaxing vacations and family travel are keywords for post-virus travel. CTA recommends that travel products suitable for families or traveling with elderly parents will be most marketable at this time.
7. OTAs and offline travel agencies are the top choices for booking channels. 39% said they would book through an OTA, and 32% at an offline travel agent's office. Other options included booking directly with an airline or hotel, and booking through a close contact.
8. During the coronavirus crisis, most OTAs issued free cancellations to Chinese travelers. 72% said they would choose these channels to book again.
9. Nature travel has major appeal for Chinese travelers now, but city sightseeing is still popular.

10. 78% of survey respondents said they planned to go to a scenic sightseeing spot in the future. According to the report, the rate of increase for people buying tickets on Ctrip in the previous few weeks to visit scenic sightseeing attractions was 100%.
11. What will be 2020's domestic tourism hotspots? The top 10 destinations are: Yunnan, Hainan, Shanghai, Tibet, Beijing, Sichuan, Guangdong, Zhejiang, Chongqing, and Xinjiang. Of all provinces, administrative regions, and municipalities in China, Hubei – the center of the coronavirus epidemic – was ranked in last place.
12. 45% of respondents said they would opt for FIT, 37% for group tourism (including "new-style" group tourism like private family groups), and 18% opted for personalized, customized travel – a notable increase.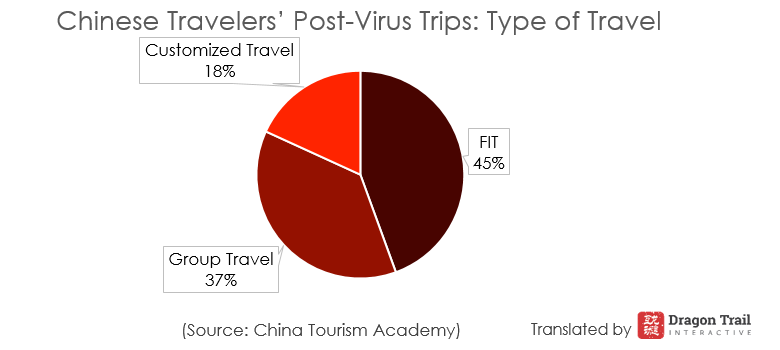 13. In the past, most people did not buy travel insurance, but this has changed dramatically. 74% of survey respondents said they would buy travel insurance in the future, only 17% said they did not plan to buy it, and 9% said they weren't sure.
14. Chinese consumers still want to spend money on travel. 60% said they planned to spend more than RMB10,000 (US$1,408) on travel in 2020.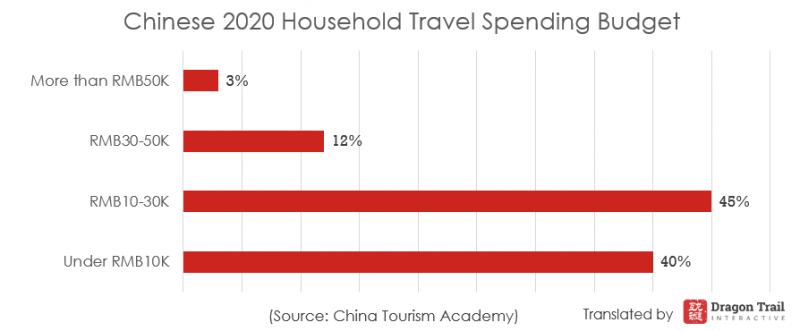 15. What will motivate Chinese to travel in 2020? Safety is key, though discounts and promotions are important, too.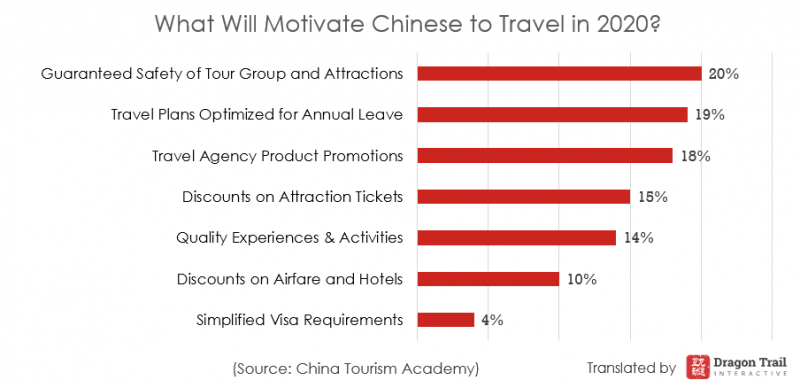 Article by: Dragon Trail
Original Article: China Tourism Academy: Chinese Post-Virus Sentiment Report
Learn more: 6 Lessons from Hotel Brands in China